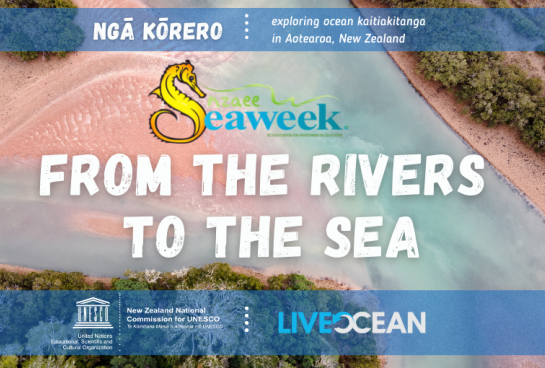 Ngā Kōrero: Exploring Ocean Kaitiakitanga in Aotearoa New Zealand
From the Rivers to the Sea – Our Interconnectedness.
Ngā Kōrero is a free webinar series which will start on the 30th of September and continue bi-monthly until end of July 2022, covering a wide range of marine topics!designed to foster better communication about various ocean-related topics. In this series you will hear from experts in marine science and mātauranga Māori, learn about new discoveries and progress in marine protection, and increase awareness of opportunities for action.
This webinar will focus on how our actions and land-use practices are intertwined with the health of the sea. Our three guest speakers will be announced soon!
This webinar will be moderated by Alison Ballance, who is a former producer of Radio New Zealand's weekly science and environment programme 'Our Changing World'. She brings her passion for meeting and interviewing passionate people, sharing their knowledge and stories, as well as her background as a zoologist, wildlife filmmaker, writer and radio producer, to name a few.
Please register for the webinar here via the zoom platform!

Or check out this event on our facebook page and follow for updates!

Ngā Kōrero is brought to you by NZAEE Seaweek with support from the NZ National Commission for UNESCO and Live Ocean Foundation. Big thanks to these organizations for supporting this kaupapa.