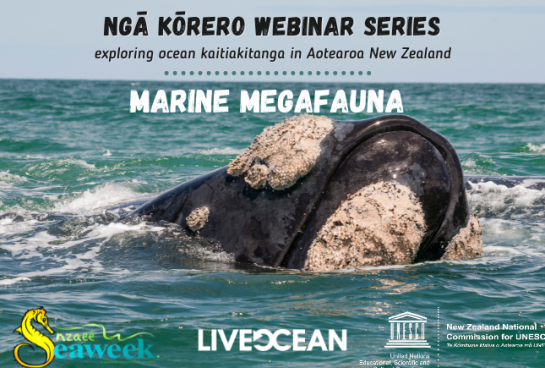 Join us for our next webinar at 7PM, Thursday the 24th February
This webinar will feature three researchers who will share their eye-opening evidence of the movement of different species of marine megafauna within and far beyond NZ's exclusive economic zone. Marine megafauna are ecologically and culturally significant species but are particularly susceptible to human threats, including pollution, coastal development, shipping, fishing, and hunting. Marine megafauna are slow growing, take years to reach reproductive maturity, and have lower reproductive rates than many marine species. This often means a slow road to recovery from over-harvesting or population crashes due to disease or infection. In order to ensure the survival of these species, it is important to understand the foraging and breeding hotspots for these species and address and reduce the threats they face. Satellite tracking technology is transforming what we know about the lives of marine megafauna. If you are keen to learn more make sure you register for this upcoming webinar!
This webinar will be moderated by Alison Ballance, who is a former producer of Radio New Zealand's weekly science and environment programme 'Our Changing World'. She brings her passion for meeting and interviewing passionate people, sharing their knowledge and stories, as well as her background as a zoologist, wildlife filmmaker, writer and radio producer, to name a few.
Go to the registration page and scroll down to see our guest speakers bios as we announce them.
---
Ngā Kōrero is a free webinar series designed to foster better communication about various ocean-related topics. In this series you will hear from experts in marine science and mātauranga Māori, learn about new discoveries and progress in marine protection, and increase awareness of opportunities for action.
Ngā Kōrero is brought to you by NZAEE Seaweek with support from the NZ National Commision for UNESCO and Live Ocean Charitable Trust.

Be sure to join the Seaweek mailing list to hear about future webinars and opportunities to engage with us.