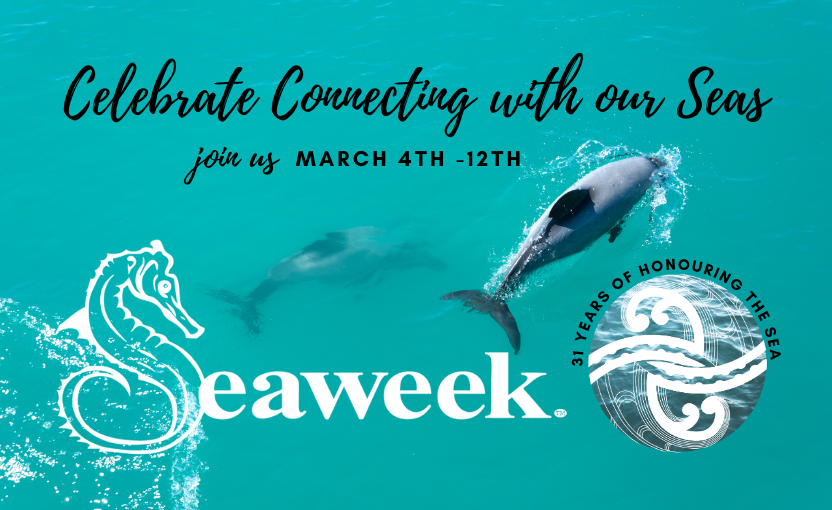 For the past 30 years in early March, the sea has been featured at the forefront of events and celebrated through shared experiences and community action projects. Seaweek is an annual celebration with a focus on inspiring Kiwis to deepen their connection with the ocean – by bringing people together and reflecting on the many ways our lives are intertwined with the sea. Seaweek strives to highlight the significant role of connection, education and action in the marine environment – so that all kiwis can get the chance to deepen their relationship with the sea. Learning about the significance of a healthy ocean in our lives is critical and it comes in many shapes and forms.
This year, from Saturday, 4 March to Sunday, 12 March Seaweek will showcase and promote a wide range of activities and opportunities across the motu. There are an endless number of ways to get involved in the national celebration of the sea. You're invited to join in by participating in snorkelling and paddling events, local conservation initiatives, beach clean-ups, film screenings, art workshops and citizen science projects! Check out the What's On page to browse events that will inspire renewed connections with your community and your local waters.
No events listed in your area? There are more being uploaded every day – but if no official events are established then we'd encourage you to plan to celebrate Seaweek in your own way, and then invite someone else to share the experience or action with you! You can participate in Seaweek by challenging yourself to learn something new about the marine ecosystem, picking up rubbish where it doesn't belong, or if it's safe to do so, get amongst the marine life – ask someone to go for a swim with you or simply share some kai on the seashore and observe nature.
Seaweek aims to create opportunities which enable individuals and their communities to form meaningful connections with the ocean. Experiences and hands-on learning forge deeper connections and inspire us to look after our marine environment. Over Seaweek let the ocean feature in more of our conversations and help to raise awareness about our impact on the marine environment and pledging to do more to protect it.
A long-standing Seaweek tradition is to honour ocean advocates by celebrating their work and sharing their stories with our audience to inspire more action and care for the ocean! The national Seaweek Ocean Champion Challenge – Moana Toa Whakatara, is an opportunity for environmental heroes of all ages to share their story through a short video. Find all the details about how to enter or nominate someone at seaweek.org.nz/oceanchampionchallenge
Whether you are a Seaweek veteran, or this is your first time participating in an event, we are here to support and help promote your mahi! So, if you are planning an activity for Seaweek, let us know! You can tag us @seaweek on Facebook or @nzaeseaweek on Instagram in your #seaweek posts so we can share the love.
Don't hesitate to get in touch with us by emailing seaweek@merc.org.nz we'd love to hear from you!