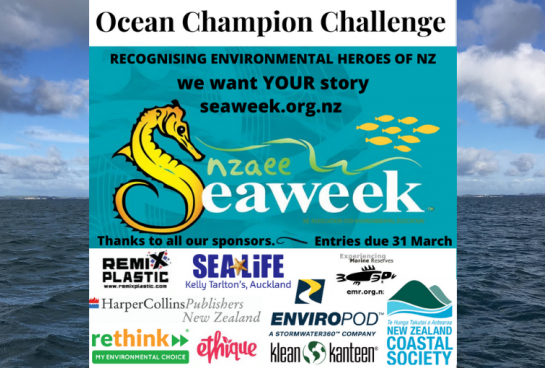 What is the Ocean Champion Challenge?
The national Seaweek Ocean Champion Challenge – Moana Toa Whakatara – is a call for all environmental heroes to share with us what action they are taking to help solve a problem impacting the marine environment.
For this year's entry into the Ocean Champion Challenge, we invite you share your story in a short video or photo slideshow of your efforts to protect or restore our marine environment. Alongside the video file, please include a little bit about what inspires you and what you are doing as a kaitiaki to protect our moana.
We would like to use this challenge as a platform to celebrate the work of many passionate ocean advocates and share their stories – we can all be ocean champions if we rise to the challenge we set ourselves.
Criteria for all entries (competition closes March 31st):
Entrants can either film the video themselves, narrate the video or have someone filming them.
Videos can be 'photo slideshows' or 'photo stories' but should include some narrative that tells us about what you are doing and why.
Entries must be sent as Mp4 (standard video files), no less than 1 minute but no longer than 3 minutes.
There are three award categories and lots of fantastic prizes this year!
Junior entrants (16 & under) All entries will all go into a prize draw for a selection of fantastic spot prizes from our sponsors, Rethink, Ethique, Harper Collins Publishers NZ, Klean Kanteen, Remix Plastic and Experiencing Marine Reserves
Senior entrants (17+) The finalist will receive a $500 cheque to support their work sponsored by the New Zealand Coastal Society who has been sponsoring this award since 2018.
Group entrants (any group – 2 people or more!) Group winners will receive a LittaTrap from Enviropod to install at your school or anywhere in your community. A LittaTrap stops plastic and other nasties reaching our oceans via the stormwater drain and is key in the fight against marine pollution. And for an outstanding group of students (up to 30) that enter, there is a class trip to Sea Life Kelly Tarlton's up for grabs!


Please make sure entries include the following with your entry & send to seaweek@merc.org.nz
Full name(s) and category of entry
Email address/contact phone number
Brief biography or description of the participant(s) or group entering the Challenge

Make sure you answer these in your video:
What is the marine environment problem that is being addressed?
How will your work impact the marine environment?

With your permission, video entries will be featured on the Seaweek website and social media channels. Also, if you, your group or your class have a website, blog or facebook page with more information about your project or challenge please include a link!
Thank you to so much to all our generous sponsors of the Ocean Champion Challenge: New Zealand Coastal Society, Enviropod, Rethink, Ethique, Harper Collins Publishers NZ, Klean Kanteen, Remix Plastic, Experiencing Marine Reserves, and Sea Life Kelly Tarlton's – for providing some fantastic prizes!